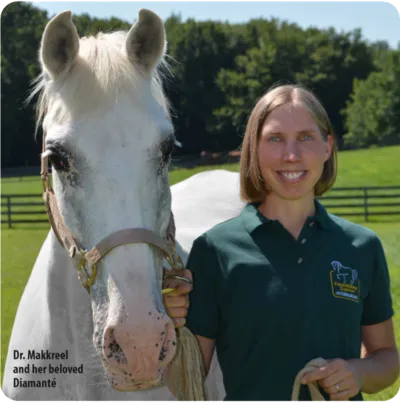 Lynsey D. Makkreel, DVM
Veterinarian
Dr. Lynsey Makkreel was born and raised in Ontario, Canada to a family that had nothing to do with animals and not a single pet. Dr. Makkreel's first career choice was to be the queen of England, but once she realized at the age of 4 this was not going to be possible, she somehow decided that she would become a veterinarian. At the age of 6 she went to her first week at horse camp and from then on, she did everything in her ability to be around horses.
Dr. Makkreel graduated high school with every intention of going on to a career in veterinary medicine. Completing the prerequisite college courses within two years, Dr. Makkreel was admitted to the Ontario Veterinary College at the age of 20. Dr. Makkreel completed all four years of her veterinary education at the top of her class, winning numerous scholarships along the way. In her final year, she was nominated to apply for the prestigious Rhodes Scholarship.
Having decided that she would pursue a career in equine medicine, Dr. Makkreel elected to complete an equine internship at Fairfield Equine Associates in Connecticut under the tutelage of Dr. Richard Mitchell, 7 time Olympic team veterinarian. It was during this year-long internship that Dr. Makkreel gained a tremendous amount of knowledge and expertise in lameness and performance medicine. Dr. Makkreel was then offered the opportunity to spend the winter season practicing her veterinary skills on top-notch show horses at the world class show grounds in Wellington, Florida.
Dr. Makkreel is certified as an FEI Permitted Treating Veterinarian, and has completed The International Society of Equine Locomotor Pathology (I.S.E.L.P.) certification course.
Dr. Makkreel joined Foundation Equine in 2006 as an associate veterinarian and became a partner in the practice in 2012. She quickly made New Jersey her home, and along with her wonderful husband Gerry, are enjoying their two beautiful daughters, Emily and Mia. Her family is complete with 3 horses and 2 cats.
Music has always been an important part of Dr. Makkreel's life having taken piano and singing lessons as a child. Before leaving Canada, she was part of a professional choral ensemble. Dr. Makkreel is currently a member of the NJ Chamber Singers, a small audition only ensemble that performs 8 concerts a year. Outside of music, horses and family, Dr. Makkreel spends most of her free time gardening.
---
Sarah R. Bye, DVM, cAVCA




Veterinarian
Dr. Sarah Bye grew up on a small farm in Bucks County, PA and competed in hunters, equitation and eventing with her first pony, a Connemara named Pogo. At twelve years old, she was given six feral miniature horses, several of whom she trained and successfully competed in combined driving and pleasure driving. After growing out of her pony, Dr. Bye competed in eventing with her off-the-track thoroughbred, Rocky, whom she continues to ride today.
Dr. Bye obtained a bachelor's degree in Biology and French from Wellesley College, then received her veterinary degree from Virginia-Maryland College of Veterinary Medicine with an equine emphasis. While in vet school she participated in service trips to Peru and Nicaragua with the United States Humane Society, aiding working horses in rural communities. In her final year of school, she received the "Outstanding Senior Award" which recognize exceptional academic achievement and leadership by a graduating student. Pursuing additional training, Dr. Bye completed an internship at Unionville Equine Associates in Oxford, PA, where she gained extensive experience in ambulatory medicine, sports medicine, surgery, and emergency and critical care.
Dr. Bye is certified in equine chiropractic care, and is certified as an FEI Permitted Treating Veterinarian.
Joining Foundation Equine in 2018, Dr. Bye is thrilled to be back in the area with her dog, Cashew, and her horse, Rocky. Although Dr. Bye appreciates all aspects of equine practice, her special interests include lameness, sports medicine, and chiropractic care. Beyond work, Dr. Bye enjoys CrossFit, running and hiking with her dog, and spending time with family and friends.
---
Elisabeth R. Leahy, DVM, MS




Veterinarian
Dr. Liz Leahy grew up in East Brunswick, NJ and started taking riding lessons when she was seven years old. At the age of thirteen, she became the proud owner of a wonderful pony named Blaze with whom she competed in barrel racing and team penning. Dr. Leahy eventually added two off-the-track Thoroughbreds, Romeo and Helios, to her collection and retrained them in hunter/jumpers and eventing.

Dr. Leahy obtained her bachelor's degree in Animal Science/Equine Science from Rutgers University. While at Rutgers, Dr. Leahy started working at the New Jersey Equine Clinic as a stable technician. Following graduation, she remained at NJEC as a surgical technician and anesthetist for two years. Working at NJEC inspired her to pursue graduate school at the University of Connecticut where she obtained a M.S. degree in Animal Science, followed by veterinary school at Michigan State University College of Veterinary Medicine where she graduated with high honors in 2018. Dr. Leahy returned to NJEC to complete her internship and then remained for an additional year before joining Foundation Equine in 2020.
Some of Dr. Leahy's professional interests include emergency and critical care, lameness and sports medicine, preventive medicine, ophthalmology, and metabolic diseases. She also has a special interest in the Standardbred industry, especially the rehoming and retraining of Standardbreds following their racing careers. When not working, she enjoys spending time with Helios, Romeo, and her newest horse, an off-the-track Standardbred mare named Alaska. She also enjoys hiking and exploring New Jersey with her fiancé, Nate.
---
Shannon H. Kellish, DVM




Veterinarian
Dr. Shannon Kellish is a New Jersey native who grew up in Clark, NJ. Though she never had a horse growing up Dr. Kellish took riding lessons at Watchung Stables and Lord Stirling Stables for many years.
Dr. Kellish decided to try a new state for her undergrad and veterinary education and attended Kansas State University. There she earned her bachelor's degree in Agriculture/Animal Science, an Equine Science Certificate, and Veterinary Medicine degree. During her time in Kansas, Dr. Kellish worked for a year in a nursery swine unit in between her undergraduate and veterinary education. Dr. Kellish also participated in a few veterinary student trips visiting Belize, Guatemala, and India, to experience the various veterinary medicine styles abroad.
After graduating veterinary school in 2021, Dr. Kellish attended a sports medicine internship with Steele & Associates. While in her internship Dr. Kellish traveled up the east coast to several states and attended the winter circuit in Wellington, Florida.
Dr. Kellish's veterinary interest include sports medicine and regenerative therapies. Outside of work, Dr. Kellish enjoys roller skating, sewing, photography and spending time with her friends. Dr. Kellish has a love for travel and tries to visit a new place at least once a year.
---
Sarah Todd, DVM, MPH




Veterinarian
Dr. Sarah Todd hails from the great state of Michigan, where her horse experience started at Girl Scout camp and exchanging barn chores for lessons. She served two years as Captain of the Hiram College Equestrian team where she earned her B.A. in Biology with honors. Dr. Todd went on to the Michigan State University College of Veterinary Medicine and College of Human Medicine, graduating in 2018 as a dual Doctor of Veterinary Medicine and Master of Public Health.
With a passion for improving health and optimizing equine performance, she is an advocate for preventive and wellness care, has pursued sport horse saddle fitting, and earned her equine acupuncture advanced education through the Chi Institute. Dr. Todd is certified as an FEI Permitted Treating Veterinarian and has enjoyed working numerous Rolex 3-Day events.
Dr. Todd served in the Active Duty U.S. Air Force for four years and joins the Foundation Equine team from a sport horse practice on Long Island. She continues to serve as part of the Air National Guard with the 106th Rescue Wing at Westhampton Beach. She enjoys competing as both an eventer as well as in the hunter/jumper ring. When not working or at the barn, she is most likely traveling new parts of the world, hiking the Appalachian Trail, or perhaps fly fishing in the nearest stream.

---

Hanna Ruark, DVM
Veterinarian
Dr. Hanna Ruark grew up in Maryland and was an animal lover from a very young age. She took her first steps into the horse world when she was 7 years old. Since then, she has participated in several different equine disciplines including dressage, jumping, cross country, hunter, trail, cow penning, carriage driving, western dressage, mounted drill team, mounted archery, garrocha, and vaulting. She worked in horse rescue and as a horse trainer for several years before attending vet school. Dr. Ruark also has a soft spot for draft horses.
Knowing early on she wanted to pursue a career in veterinary medicine, Dr. Ruark attended Delaware Valley University in Pennsylvania to get her Bachelor of Science degree in Large Animal Science. She then moved to Prince Edward Island in Canada to attend the Atlantic Veterinary College and get her Doctorate of Veterinary Medicine degree with her primary focus being equine and exotics/wildlife. One of her favorite vet school accomplishments was traveling to perform right whale necropsies.
Dr. Ruark owns three horses, two rabbits, three snakes, and lots of geckos. Outside of work, she enjoys spending time with her animals, practicing archery, AcroYoga, playing video games, traveling, and exploring new places with friends.
---
Daniel P. Keenan, DVM, Emeritus
Veterinarian
Dr. Daniel P. Keenan earned his Bachelor's Degree from Villanova University in 1980 and his Doctoral Degree from The New York State College of Veterinary Medicine at Cornell University in 1984. Upon graduating from Veterinary School he moved to central New Jersey and began working at The Walnridge Equine Clinic where he remained until 1988. In 1988 Dr. Keenan began his own practice centered in the Bordentown area where he has remained ever since. In 2006 Dr. Keenan and Dr. Ron McAlister merged their practices to form Keenan McAlister Equine which later became Foundation Equine Wellness and Performance.
Dr. Keenan has served on many committees and boards concerning the equine industry both in New Jersey and nationally; including past memberships on the Board of Directors of the American Association of Equine Practitioners (AAEP) and the Leadership Development Committee of that organization; he has also served on the Professional Conduct and Ethics Committee and the Educational Programs Committee of the AAEP; as a past President and Treasurer of the New Jersey Association of Equine Practitioners (NJAEP); as Vice President of the NJ Horse Council; as a member of the New Jersey Board of Veterinary Examiners; as a member of the Executive Board of the New Jersey Veterinary Medical Association; as a representative to the New Jersey Agricultural Convention and on various other committees having to do with the equine industry in New Jersey. Dr. Keenan was honored in 2018 by the AAEP for his outstanding voluntary service to the Association, and received the 2018 Governor's Award for New Jersey's Horseperson of the Year. Dr. Keenan currently sits on the New Jersey Equine Advisory Board (NJEAB) as a representative of the NJAEP.
Dr. Keenan's main veterinary interest lies in general and preventative medicine, reproduction and foal medicine.
In his spare time Dr. Keenan enjoys spending time with his wife Teresa and his son Liam, and riding his mountain bike and his road bike long distances. He is an avid participant of the Anchor House Ride, a 500 mile bike ride that takes place each summer and benefits The Anchor House, a home for runaway and abused children in Trenton, NJ.
---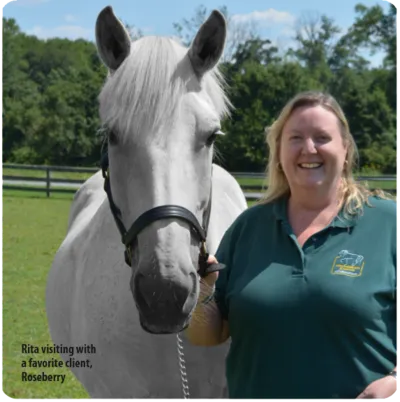 Rita
Practice Manager
Rita grew up in Monmouth County and spent her free time as a teenager at nearby horse farms, taking lessons and doing any work that kept her in a barn. She eventually managed several farms, spent two years as an equine veterinary assistant, and served seven years as a Standardbred groom, racing at Freehold, Garden State Park, and the Meadowlands.

After fifteen years away from "equine employment," Rita joined our staff in 2008 as accounts receivable and inventory manager and has been managing our practice since 2015.

When not ensuring our office is running smoothly, you can catch Rita teaching her birds, Indie and Peaches, to speak, practicing Yoga, or country line dancing.
---
Susan
Client Care Coordinator
Susan has been crazy about horses since her grandfather put her on one at 18 months old. In high school she baby sat, and worked in retail to earn the money for the weekly horseback rides with the school riding club.
A retired Paramedic, she is still an active EMT and has provided emergency response coverage for various Monmouth and Ocean County Equestrian events. Susan is also on staff at Raceway Park, the Motorsports facility in Old Bridge, where she serves as an EMS supervisor, for a different kind of horsepower! She and her husband Bob moved to Jackson 23 years ago, and bought their home specifically because it was across the street from a horse farm, where they live there together with their cat "Thomas Jefferson".
Susan had wanted a horse since she was a very little girl, and at age forty finally got one. She and her mare, also named Susan, have been together for the past twenty years. "I was looking for a made gelding, and wound up with a green mare. Because her name was the same as mine, my trainer said it was meant to be", and it was. When she is not working Susan can usually be found at the barn enjoying the companionship and relaxation she gets from her horse, and her "horsey" friends.
"The best part about my job at Foundation Equine is getting to talk to other people about horses!"
---
Angela
Veterinary Assistant

Angela was born and raised in Midland, Michigan. Even as a little girl, her dream was to become a veterinarian. She became very passionate about horses at a young age and joined a 4-H group where she learned how to take care of horses, goats and sheep.

After graduating high school Angela attended a community college local to her hometown. It wasn't long after that she decided to join the Marines as a means to help fund her education and to continue pursuing her dream. She served five years as an Avionics Technician for helicopters which brought her to the Fort Dix base here in New Jersey. While in the Marines Angela took night classes to help advance her higher education. After completing her time of service in the Marines she gained a year and a half of further experience as a small animal veterinary technician, while simultaneously earning her Bachelor of Science degree in Biology at Rowan University. Angela has not lost sight of her dream to become a veterinarian, but with her husband currently in the Navy the timing isn't right just yet. She sees this "waiting" period in her life as an opportunity. She thoroughly enjoys being part of the Foundation Equine team and expanding her knowledge about equines.
In her spare time Angela enjoys riding her horse, Dolly, mountain biking, snowboarding, spoiling her two mutts, Diesel and Moose, and volunteering with her church youth group.
---
Paige
Veterinary Assistant

Paige grew up in rural Cumberland County, NJ and by the time she was 3 she was obsessed with horses. She spent all of her free time helping out at a local barn in exchange for time in the saddle and competed throughout high school in the Hunter and Equitation rings.

Upon graduating high school, she studied Equine Science at Centenary University before accepting a position managing and traveling around the country with an A rated show barn. In 2016, she bought her pony Joker and has trained him from the ground up to be a Hunter pony.

After her time traveling the show circuit, Paige is thrilled to have joined the team at Foundation Equine to learn more about performance issue treatments and caring for the general well-being of horses, especially as they age.

When she's not spending time with her horses or family, Paige can usually be found hiking or lounging with her three rescue pups.
---
Francesca
Veterinary Assistant

Francesca grew up in Allentown, New Jersey. From a young age, she loved horses and dreamed of becoming a vet "when she grew up." She began taking horseback riding lessons at eight years old and the deal was sealed! Francesca fell in love with the sport of Eventing, and in 2017, she adopted her off-the-track Thoroughbred, Atlas, who she trained from the ground up across the three disciplines of dressage, show jumping, and cross country jumping.

After graduating high school, Francesca earned her Bachelor of Science in Animal Sciences from Rutgers University. She is currently a veterinary student at Cornell University, and is learning everything she can about equine medicine. While studying keeps her very busy, Francesca is delighted to be able to work with the Foundation Equine team when she is back home in New Jersey during school breaks. She loves applying the skills and knowledge she is learning in veterinary school to real-world veterinary experiences. When not in the saddle or studying, Francesca enjoys bird watching, going to the shore, reading, and spending time with her family.
---
Brittney grew up in Burlington County, New Jersey. According to her non-horsey parents, Brittney fell in love with horses at a very young age and would insist on riding every plastic coin operated horse she came across. After much persuading, her parents finally gave in and she started taking real riding lessons when she was 6 years old. She spent most of her childhood and teen years at the barn, helping at summer camps, and showing in local hunter jumper shows.

After graduating high school, she attended Rowan University where she pursued a bachelor's degree in American Studies with a dual minor in Political Science and Law and Justice. Before joining the Foundation Equine team in 2019, she spent many years working for farms in the South Jersey area. Despite not having a horse of her own, she still finds ways to get her horse fix whenever possible.
In her spare time Brittney enjoys kayaking, hiking, and spending time with her rescue dog Coco.